What's The Latest? Live Webcam View 
ATA Project Website
ATA Project Schedule 
Four of the district's oldest, most inefficient school buildings are being replaced, thanks to voters' approval of the 2013 school bond measure.
Arts & Technology Academy, a neighborhood middle school located in the former Jefferson school building, is being reconstructed in place. The current school building was constructed in 1957 and is in poor condition. The rebuilt school will provide better learning environments for students and will cost less to operate.
Construction began in spring 2016. The new building is slated to open in fall 2017.
Rowell Brokaw Architects and Opsis Architecture designed the new building, in consultation with a design advisory committee and with input from students, parents, staff, neighbors and community members. Local company John Hyland Construction has been awarded the construction project.
The reconstruction project will replace ATA's existing building with primarily new construction around some renovated portions of the old building. The only spaces to remain will be the three gymnasiums and the mechanical/electrical room. The main gym will undergo seismic and other upgrades, the second gym will be extended to allow full-court basketball, and the south gym will be converted to band and theater space. Most of the site will be redesigned with new landscape and hardscape.
The design and layout of the new building will support Arts & Technology Academy's exciting and innovative instructional program that integrates science, technology, engineering, math and the arts. With a large project room and interactive classroom located at the core of the school, the building is designed to encourage group and project-based learning.
A note about Family School: The elementary grades of Family School, a K–8 alternative school, moved from their location at the ATA site to the former Crest Drive Elementary School site in summer 2015, before construction began. Family School grades 6–8 continue as a program at ATA. Learn more
About the project 
• Architect team: Rowell Brokaw Architects (Eugene) in association with Opsis Architecture (Portland)
• General contractor: John Hyland Construction (Springfield)
• New building capacity: 450 students. Designed to facilitate future expansion to 600 capacity if needed.
• Area of existing building: 102,000 sf + 8,000 sf covered walkway
• Area of new building: 97,000 sf (~82,500 sf new construction, ~15,000 sf renovated area, not including mechanical spaces)
• Mechanical loft area: 5,400 sf
• Covered outdoor area: 4,280 sf
• Building history: Constructed in 1957. The existing building originally housed Jefferson Junior High, later Jefferson Middle School. Also housed Magnet Arts elementary school program. Jefferson Middle School and Magnet Arts closed, and Arts & Technology Academy opened in the building in 2007.
Right Now at the Construction Site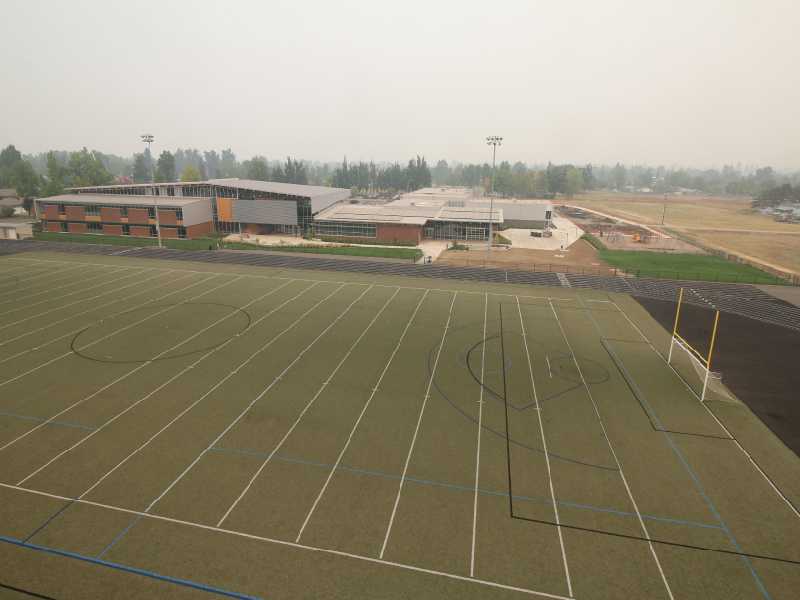 image updated every 10 minutes during daylight hours
Learn more
• ATA project website
• ATA new school design images (Feb. 2016)
• ATA schematic design report (Jan. 2015)
• Join the mailing list for ATA school design news: atadesign@4j.lane.edu
• ATA wins model STEM school grant
• ATA students' science experiment will fly to space station